Ladies! Up the duff? Bun in the oven? About to pop a sprog?? Then here's what you should be doing to pass the time during those boring last couple of weeks when you're in the fullness of health and not feeling in any way like there's a football team jumping on your bladder or kicking you in the small of your back. Get up off that couch and start painting. Pick a room of your choice, the internet isn't too fussy about that. But just make with the brush and emulsions and get cracking.
Don't get anyone in to help, because that's not the done thing. That makes you a failure. Most importantly, you will not gain maximum Internet points unless you do this thing in dungarees. ALL OF THE 90'S DENIM AROUND YOUR BELLY. It's not essential, but it is preferred. And always wear a smile. Or you will fail. Fact.
Look, I don't make the rules. I'm just showing you how it is. It's now why I throw water on my face while smiling like Denver The Guilty Dog; or eat salads alone while laughing maniacally to myself. And I'm a better woman for it.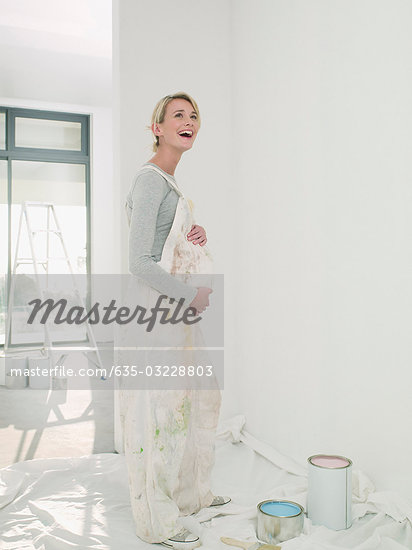 See below? That's what happens when you send one of those silly menfolk out to get you pots of paint. How are you supposed to get the whole house done with those little things?? Honestly. No sense. Don't forget to smile at him endearingly though. Nobody likes a moany non-painting pregnant lady on the internet.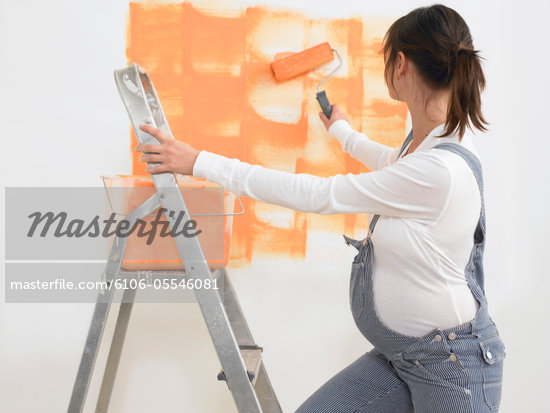 Don't freak out now, you're entitled to the odd break. But don't get too comfy, trying to get away with sitting down and resting your weary heavily pregnant self in between some light house painting. NEVER LET GO OF THE TOOLS. What would the neighbours think if they caught you sitting down like the lazy wagon in this pic below?? For shame.
Don't go thinking it's just stock photos that are showing you the right way to live your happy fulfilled pregnant life. Stock cartoons are getting in on it too. So you know shit's gettin' real. So start stocking up on the Dulux.
Baby Brain got you confused about how many paint brushes to use at the one time? Go with one first, more advanced Pregnant Painting Ladies are ambidextrous. See below…
For the love of God, don't even think of getting your Baby-Daddy to help. He'll just make a tit of himself by drawing stupid pictures on your belly, or do pretend graffiti like these muppets. But if he does, you better SMILE AND SHOW THE WORLD YOUR HAPPY FULFILLED LIFE….
…and when you're done, ladies – don't forget to clean up after yourselves. Nobody likes a lazy Painting Pregnant Lady. Now you have the knowledge. Go forth and ignore the fumes and the physical exertion, for you are doing the Internet's bidding once more. DON'T FORGET TO SMILE WITH YOUR HAPPY FULFILLED LIVES…